Khoai Mì Nước Dừa – Cassava with Coconut Cream Sauce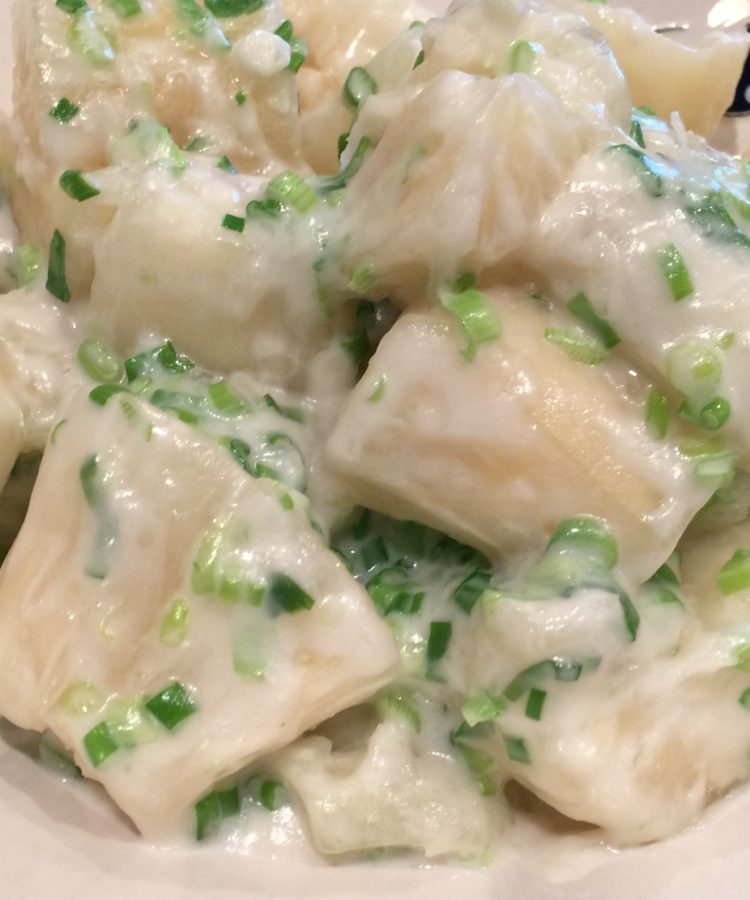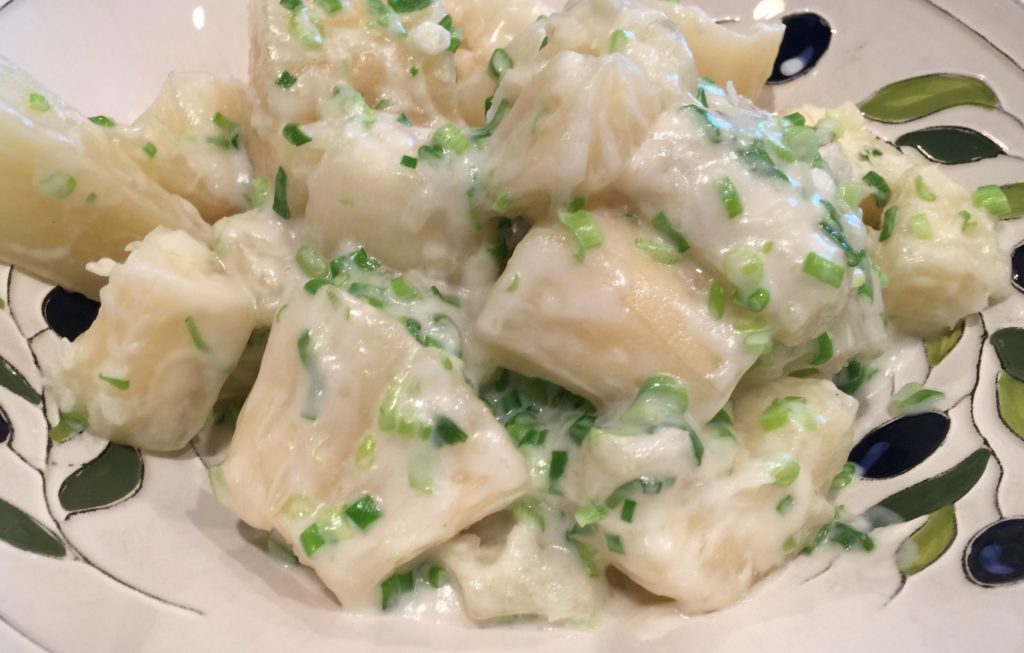 Khoai Mì Nước Dừa - Cassava with Coconut Cream Sauce
2016-05-27 05:39:34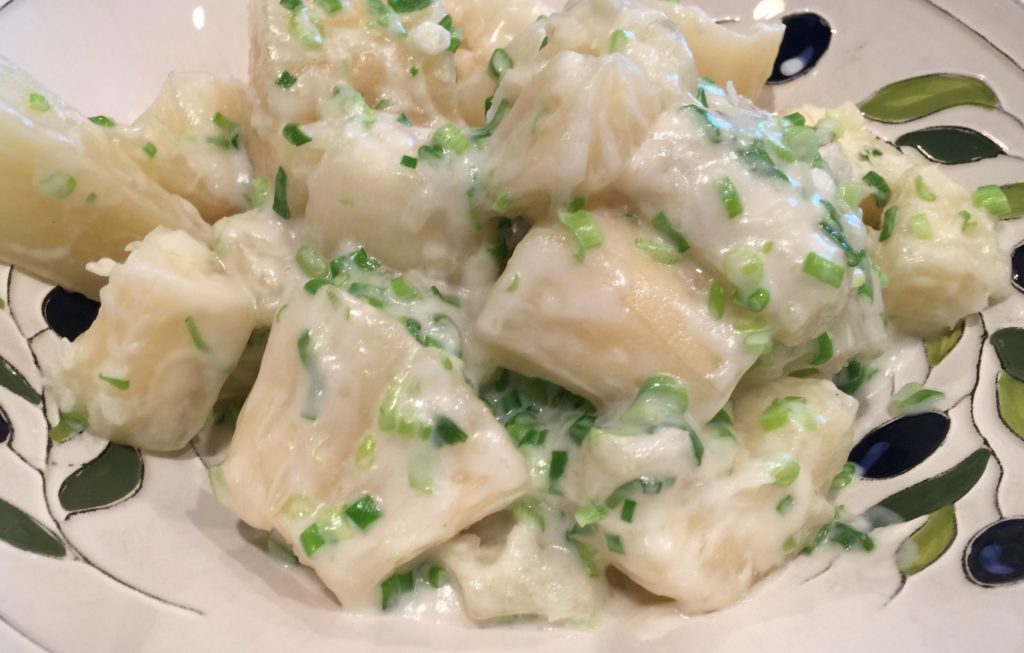 Cassava and coconut cream sauce is a delicious snack and it's very simple to make.
Ingredients
* Ingredients are written in English and Vietnamese.
* Nguyên liệu và số lượng được viết bằng Tiếng Anh và Tiếng Việt.
Ingredients
2-1/2 lbs skin removed, cleaned cassava roots.
1 can coconut cream 400 ml
1 cup water
1/4 cup sugar = 56 gr
1 tsp kosher salt, if using regular table salt then you need to reduce the amount to 3/4 tsp.
7 stalk scallions, thinly sliced.
* For YouTube video tutorial please click in to the link at the bottom of this page.
* You need to get 4 - 5 lbs of fresh cassava roots, just in case you have some that are bad. Soaked the Cassava in cold water and refrigerated over night.
* Add cassava to a nonstick pan cover with 4 cups of cold water. Bring it to boil on high heat for 20 mins ( REDUCE THE COOKING TIME IF YOUR CASSAVA ROOTS ARE SMALLER THEN MINE ) then drained and return the cassava back to the pan then add all the ingredients that's had listed. Allow it to simmer on medium heat for 20 mins. Add chopped scallions, toss it well then serve hot or warm.
Enjoy your delicious snack.
*****************************
Nguyên liệu
2-1/2 lbs khoai mì đã lột vỏ, rửa sạch.
1 lon nước cốt dừa 400ml (coconut cream)
1 cup nước
1/4 cup đường = 56 gr
1 tsp muối kosher salt nếu dùng muối thường thì bớt lại.
7 tép hành lá
* Nên mua 4 - 5 lbs để trừ hao nếu khoai bị hư. Ngâm Khoai mì trong nước lạnh và nhớ ngâm trong tủ lạnh 12 - 24 tiếng. Ngày hôm sau xã nước lại và cho khoai vào nồi không dính, cho vào 4 cup nước. Nấu lửa lớn, cho sôi, luộc khoai 20' ( GIẢM THỜI GIAN LUỘC KHOAI LẠI NẾU KHOAI CỦA BẠN NHỎ HƠN KHOAI CỦA MÌNH ). Sau đó đổ nước đi và cho khoai trở lại nồi, cho hết tất cả các nguyên liệu nước dừa vào. Nấu khoai lửa vừa nhỏ 20', sau đó cho hành lá vào xốc đều cho khoai thấm đều nước dừa thì mới ngon. Khoai này ăn không hết thì phải để tủ lạnh vì khoai có nước dừa sẽ dễ bị hư.
Chúc các bạn ăn ngon miệng!
Adapted from Click here for YouTube video tutorial---Bấm vào đây để xem cách làm.
The Beth Kitchen http://www.thebethkitchen.com/