EASY Delicious Oven Roasted Pork Spare Ribs – Sườn Đúc Lò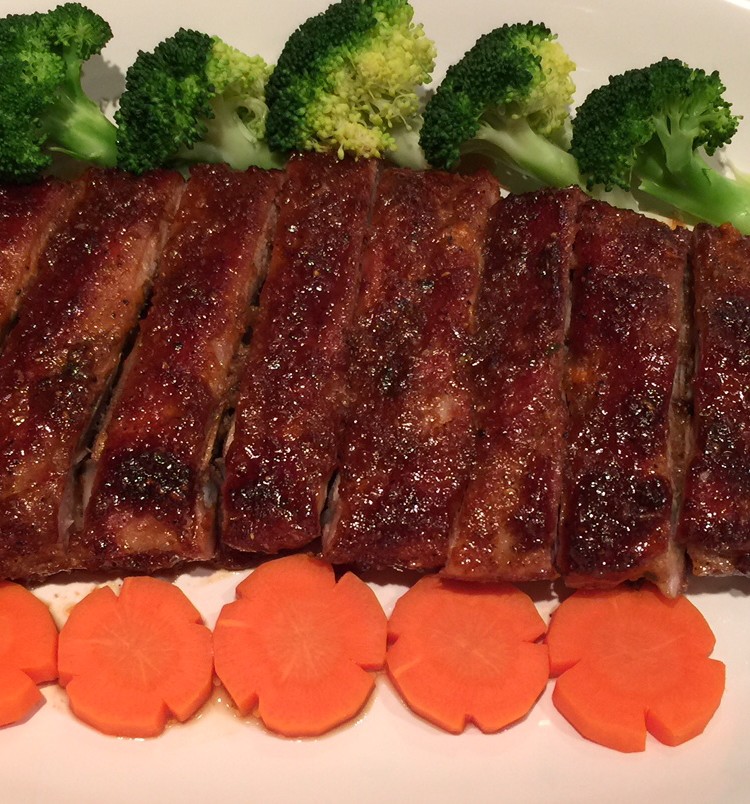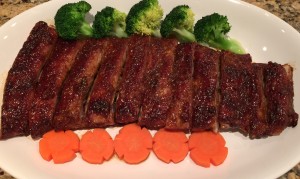 EASY Delicious Oven Roasted Pork Spare Ribs - Sườn Đúc Lò
2016-02-16 20:23:57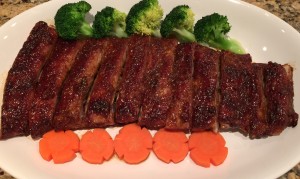 With 3 easy steps, you can make a delicious tender pork spare ribs at anytime. The glaze adds a little sweetness flavor to the ribs which is not too overpowering.
Ingredients
* Ingredients are written in English & Vietnamese.
* Nguyên liệu được viết bằng Tiếng Anh & Tiếng việt.
Ingredients: Serve 4 people
Sauce of marinating ribs
4 lbs pork spare ribs
5 small shallots about 2-3 Tbsp
3 scallion stems (white part)
1-1/2 Tbsp sugar
1 Tbsp oyster sauce
1 tsp dark - soy sauce
1 tsp sesame oil
1-1/2 tsp kosher salt (You can increase to 2 tsp depending on taste)
1/2 tsp black pepper
Glaze
1 Tbsp shallot
2 tsp white vinegar
1 tsp paprika
1/8 tsp black pepper
1/8 tsp kosher salt
1 Tbsp sugar
1-1/2 Tbsp honey
1 Tbsp of olive oil
* FOR step by step YouTube Video tutorial, CLICK the Link at the bottom of the page.
Very important note
* Marinade the ribs for at least 3 hours, you can marinade the ribs longer or even better overnight.
* Allow the ribs return to room temperature 30 mins before cooking.
* Preheat the oven to 400°F. Cook the rib for 50 mins then apply the glaze and return the ribs back to the oven and continue to cook 20 more mins.
* Position oven rack on the 2nd shelf from the bottom of the oven so the ribs can properly cook and the glaze won't burn.
* Cooking time is slightly different, depending on the temperature of your oven. You may need to roast your ribs a little longer or shorter.
*************************************************
** Nguyên liệu cho 4 người dùng
Ướp sườn
4 lbs sườn
5 củ hành tím
3 tép hành (phần trắng)
1-1/2 Mcanhđường
1 Mcanh dầu hào
1 mcafe nước tương đen
1 mcafe dầu mè
1-1/2 mcafe muối ( có thể 2 mcafe)
1/2 mcafe tiêu
** Nguyên liệu cho nước sauce
1 Mcanh củ hành tím
2 mcafe giấm
1 mcafe ớt màu
1/8 mcafe tiêu
1/8 mcafe muối
1 Mcanh đường
1-1/2 Mcanh mật ong
1 Mcanh dầu ăn
*** Bước 1
Ướp sườn cả 2 mặt, ướp ít nhất là 3 tiếng ( nếu ướp qua đêm càng ngon).
*** Bước 2
Đặt vỉ nướng ở tầng thấp số 2 của lò nướng.
Lò nóng 400°F , nướng sườn 50 phút.
*** Bước 3
Thoa nước sauce lên và nướng thêm 20 phút. Vậy là xong, cắt sườn ra dùng nóng với cơm và nước tương ớt .
* Tùy nhiệt độ của mỗi lò khác nhau, bạn có thể nướng sườn lâu hơn hay là nhanh hơn thời gian của mình.
* Chúc các bạn thành công! Xin bấm LIKE, SHARE OR SUBSCRIBE. THANK YOU!
Adapted from Click here for YouTube video tutorial---Bấm vào đây xem video
The Beth Kitchen http://www.thebethkitchen.com/