Dầu chéo quẩy – Fried hollow Chinese bread sticks – Youtiao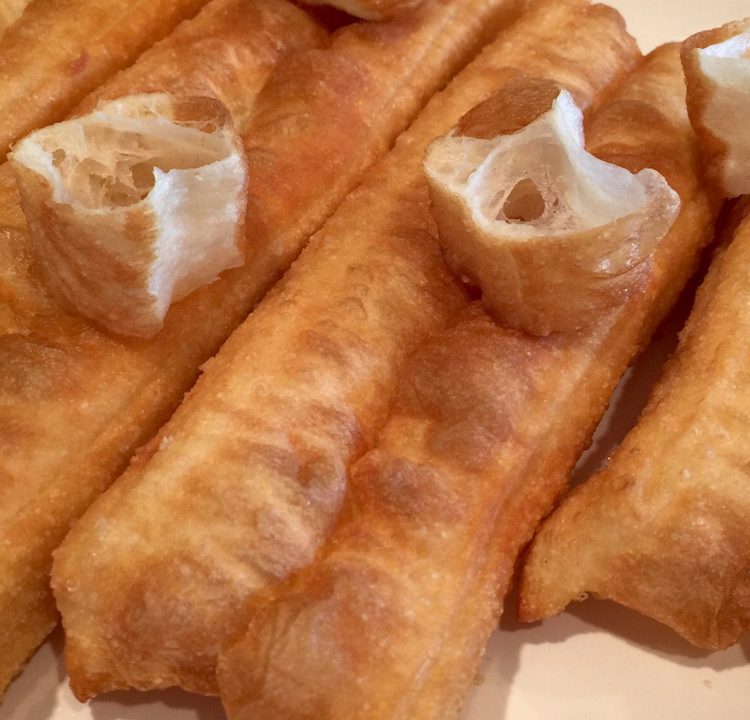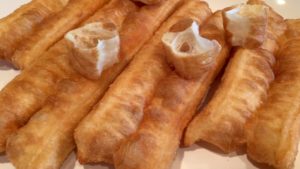 Dầu chéo quẩy - Fried hollow Chinese bread sticks - Youtiao
2016-06-18 13:46:29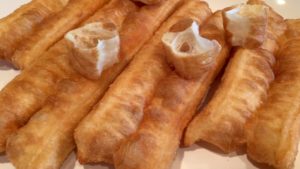 Cách làm bánh dầu chéo quẩy - How to make Fried Chinese bread sticks ( Chinese Culler)
Ingredients
Ingredients are written in English and Vietnamese.
Nguyên liệu được viết bằng Tiếng Anh và Tiếng Việt.
Ingredients for 7 fried bread sticks
227 gr = 1- 1/2 cups bread flour ( King Arthur brand )
then removed 2 Tbsp bread flour and replace with 2 Tbsp rice flour
1 Tbsp double acting baking powder
1/2 tsp kosher salt
2/3 cup cold water
1/2 tsp oil for coating the dough
Vegetable oil for frying
About 1 Tbsp flour for dusting the work surface.
For YouTube video tutorial please click into the link at the bottom of the page.
* Note
Make sure to mix the dry ingredients very well before add water.
Do not stretch the dough before fry
Oil temperature should be 360 - 365°F
Should have enough oil for the bread sticks to floating freely when fry.
Please follow direction closely and do not make any change.
Have fun cooking! Best of luck to you!
*****************************
Nguyên liệu cho 7 cái bánh chéo quẩy
227 gr = 1-1/2 cup bột bánh mỳ ( hiệu King Arthur ) lấy ra 2 Tbsp bột mỳ và bù lại 2 Tbsp bột gạo
1 Tbsp bột nổi ( Double acting baking powder )
1/2 tsp muối biển ( nếu dùng muối bọt thường thì nên bớt lại )
2/3 cup nước lạnh
1/2 tsp dầu ăn để thoa bột
khoảng 1 Tbsp bột để làm bột áo.
Dầu ăn để chiên bánh
* Lưu ý
Nhớ trộn bột và bột nổi cho thật kỹ trước khi cho nước vào.
Xin theo dõi cách làm cho kỹ và đừng thay đổi nguyên liệu.
Không được kéo dài ra bột trước khi chiên.
Khi chiên thì cần dầu nóng nhưng không được quá nóng. Có thể thử nhiệt độ dầu bằng cách cho vào chiên thử miếng bột nhỏ. Nếu dầu sôi đều xung quanh bánh thì OK.
Khi chiên thì bánh phải ngập dầu.
Chúc các bạn thành công!
Bánh chéo quẩy nóng mà chấm với sữa đặc thì ngon lắm.
Chúc các bạn ăn ngon miệng!
Adapted from Click here for YouTube video tutorial---Bấm vào đây để xem cách làm.
The Beth Kitchen http://www.thebethkitchen.com/