Chè Chuối _ Banana, Tapioca and Coconut Pudding.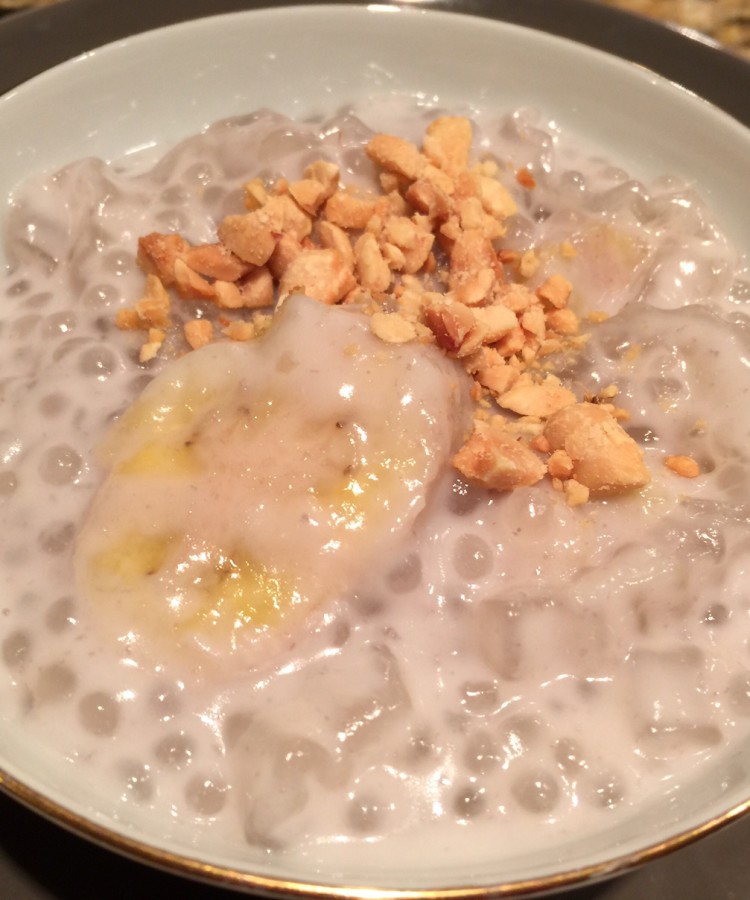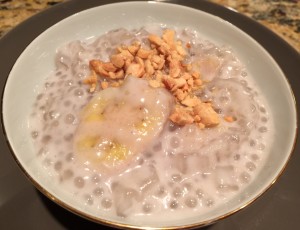 Chè Chuối _ Banana, Tapioca and Coconut Pudding.
2016-02-19 18:55:26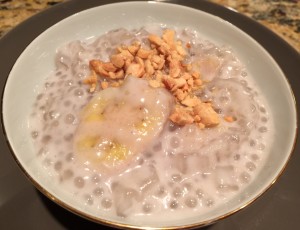 This is an easiest way to make perfect Banana -Tapioca pudding. Great combination of sweet banana, chewy tapioca pearl in rich coconut sauce.
Ingredients
* Ingredients are written in English & Vietnamese.
* Nguyên liệu được viết bằng Tiếng Anh & Tiếng Việt.
Ingredient for 10 serving
10 Asian very ripe Bananas = 2.4 lbs = 1 kg
1/2 cup sugar
1 tsp kosher salt
5 cup water
1 package 3.5 OZ dried shredded Tapioca - Soaked
1/3 cup Tapioca pearls
1-1/2 can coconut milk (13.5 OZ can)
1/4 to 1/3 cup white sugar
1/4 tsp kosher salt
Vanilla sugar or 3 Pandan leaves washed and tied into a knot.
* FOR step by step YouTube Video tutorial, CLICK the Link at the bottom of the page.
* If using pandan leaves then add it in the same time when you add soaked shredded tapioca.
* Soak Dried shredded tapioca with WARM water and replace the water if it got cold.
* Please follow my step by step process and make sure to use timer when you cook. It's help to prevent tapioca to be over cook or under cook.
******************************************************
Nguyên liệu cho khoảng 10 người dùng
10 trái chuối sứ chín muồi = 1kg =2.4 lbs
1/2 cup đường
1 tsp muối
5 cup nước
1 gói bột khoai 3.5 OZ = 100 gr
1/3 cup bột báng
1-1/2 lon nước dừa (một lon là 13.5 oz)
1 ống vani hay là 3 lá dứa rửa sạch và cột lại
1/4 -1/3 cup đường
1/4 tsp muối
Lưu ý
* Ngâm bột khoai với nước ấm, nếu nước lạnh thì nên thay nước.
* Khi nấu chè nên xài đồng hồ báo giờ để khi nấu thì bột khoai không bị cứng hay quá mềm.
* Nếu dùng lá dứa thì cho vào nấu cùng lúc với bột khoai.
Adapted from Click here for YouTube video tutorial---Bấm vào đây xem video
The Beth Kitchen http://www.thebethkitchen.com/