STICKY CINNAMON AND PECAN BUNS – BÁNH QUẾ VÀ HẠT HỒ ĐÀO NƯỚNG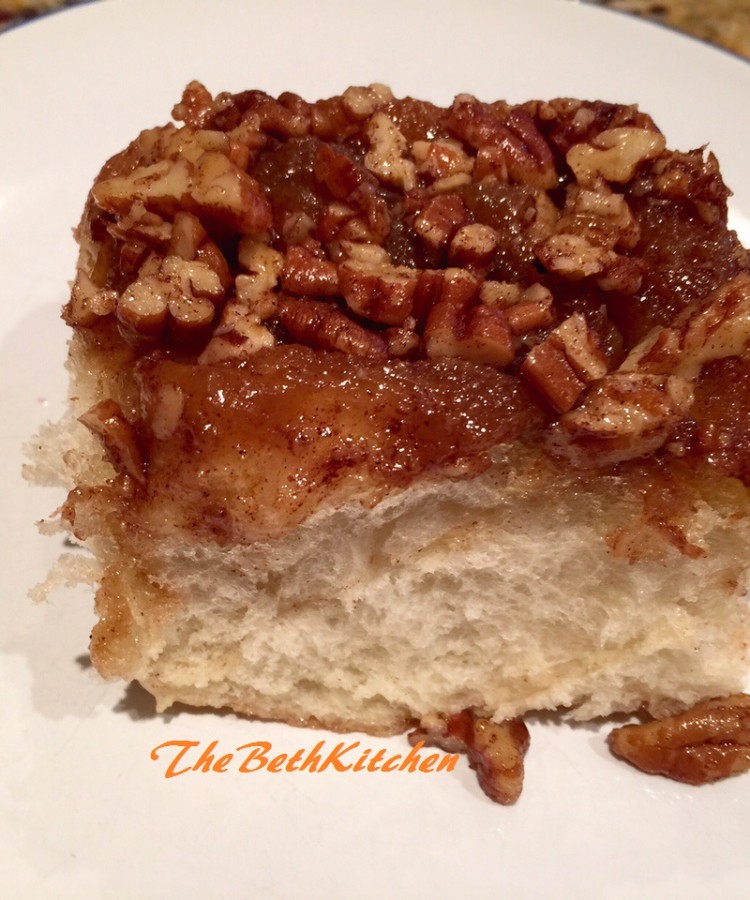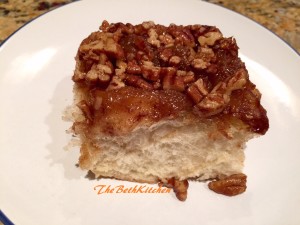 STICKY CINNAMON AND PECAN BUNS - BÁNH QUẾ VÀ HẠT HỒ ĐÀO NƯỚNG
2016-02-17 09:29:24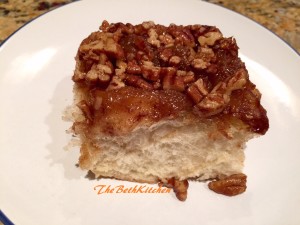 This sticky cinnamon and pecan buns are amazing. It's great with a hot cup of coffee for breakfast or dessert treat. The pecan are crunchy with rich buttery flavor. The dough are so easy to make, it's soft and fluffy and is so just perfect for cinnamon buns.
Ingredients
* Ingredients are written in both English and Vietnamese.
* Nguyên liệu được viết bằng Tiếng Anh & Tiếng Việt.
Ingredients: make 12 buns
1/2 sweet dough recipe from My Easy To Make Sweet Rolls and Bread_ Banh Mi Ngot in the Bread page.
1 stick unsalted butter cut to small cube
1/2 cup packed brown sugar
1 Tbsp white sugar
1/4 tsp kosher salt
1-1/2 tsp grounded cinnamon
1 cup chopped pecan
** Filling
1/2 cup packed light brown sugar
1 tsp grounded cinnamon
1 cup chopped pecan
2 Tbsp melted unsalted butter to brush the dough
* FOR step by step YouTube Video tutorial, CLICK the Link at the bottom of the page.
*1 nonstick 10"x 12" pan greased.
* Rising time may different from warm weather and cold weather.
* Positioned your oven rack in the middle of oven.
* Baking time is slightly different, depending on the temperature of your oven. You may need to bake your sticky buns a couple minute longer or shorter. Bake sticky buns for 25 mins at 350 °F preheated oven. After 25 mins of baking turn the oven off and keep the sticky buns in there for 5 more mins with the oven door lightly open.
* Let your buns cooled for 5-10 mins then flipped them out.
*************************************************
Nguyên Liệu cho 1 khay 12 bánh
1/2 phần bột của Bánh mì ngọt. Xin xem công thức ở Trang Bread
1 cây bơ lạt khoãng 113 gram
1/2 cup đường nâu
1 Mcanh đường trắng
1/4 mcafe muối
1-1/2 mcafe bột quế
1 cup hạt hồ đào cắt nhỏ
** Nhân
1/2 cup đường nâu lợt
1 mcafe bột quế
1 cup hạt hồ đào cắt nhỏ
2 Mcanh bơ lạt làm tan
1 cái khay 10 x 12" thoa bơ
Lưu ý
* Mùa hè ủ bột thì nhanh hơn là mùa đông.
* Đặt vĩ nướng ở vị trí giữa lò.
* Làm lò nóng 350°F nướng bánh 25 phút. Sau đó tắt lò, mở hở cửa và giữ bánh trong lò thêm 5 phút.
* Tùy nhiệt độ mỗi lò khác nhau bánh có thể nướng lâu hơn hay nhanh hơn.
* Cho bánh nguội khoãng 5-10 phút thì úp bánh ra khay có lót giấy chống dính. Chờ khay nguội thêm 10 phút thi lấy khay ra (không nên để bánh nguội lâu quá bánh sẽ dính vào khay).
Adapted from Click here for YouTube video tutorial--- Bấm vào đây xem video.
The Beth Kitchen http://www.thebethkitchen.com/