Rau Câu 3 Vị / Vietnamese Layer Jello Cake Dessert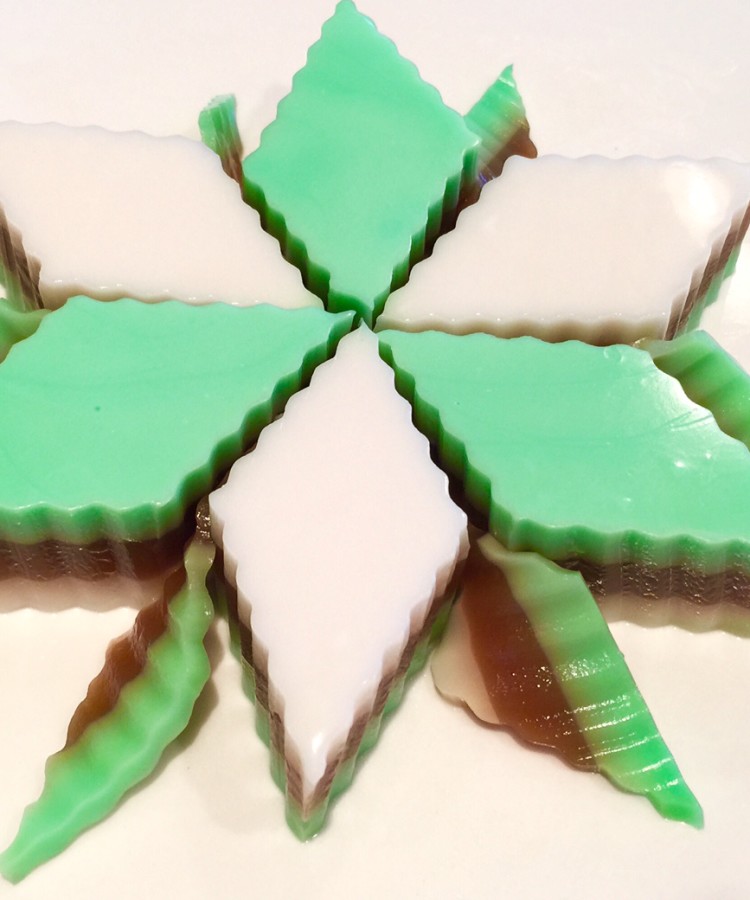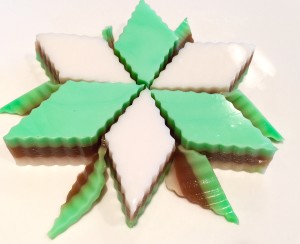 Rau Câu 3 Vị / Vietnamese Layer Jello Cake Dessert
2016-02-19 12:49:03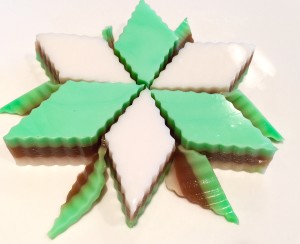 This jello cake has a combination of flavors consisting of coconut milk, coffee and pandan extract. The jello cake is not too sweet and has a crunchy texture to it. It is fun to make and very addictive to eat. You got to give it a try.
Ingredients
* Ingredients are written in English & Vietnamese
* Nguyên liệu được viết bằng Tiếng Anh & Tiếng Việt.
Ingredients: Make 2 Large pie pans
1 package Agar-Agar (25 g)
8 cups water
1-1/3 cup sugar
1/2 tsp kosher salt
3 Tbsp instant coffee
1/3 cup condensed milk
1 can coconut milk (400ml)
1/2 tsp pandan extract
2 pie pans - 9-1/2"
* FOR step by step YouTube Video tutorial, CLICK the Link at the bottom of the page.
* Add 1 package Agar-Agar 25 gr to 8 cup of water, let it soak for 60 mins.
* For coffee mixture: mix together coffee, condensed milk then pour in boiling water to make 1-1/2 cup.
* Bring the Agar-Agar mixture to boil, it may take about 10 mins. Then add sugar, salt, stir well and remember to skim off all the foam. Turn the heat down to low and let it simmer for 5 more mins. * Pour hot Agar mixture into the coffee mixture, make it to 4 cup, mix well.
* Add 1 can of coconut milk into the Agar mixture cook it on Medium low heat, when it start to boil then turn the heat down to the lowest setting.
* For the first layer pour 1-1/2 cup of coconut mixture into each plate, let it cooled for 18-19 mins then pour in the coffee layer 2 cups per each plate. Then again, let it cooled for 18-19 mins.
* Add pandan extract into the leftover Agar mixture, mix well then divide it equally into each plate. When your Jello cake cooled completely then cover, refrigerator it. You can serve your jello cake after 5-6 hours. It's best when serve the jello cake cold.
*** When you pour in the 2nd and 3rd layer, remember to pour it slowly and pour from the side do not pour right in the center because you may brake the first layer.
******************************
Nguyên liệu để làm 2 bánh
1 gói rau câu Agar - Agar Powder - 25 gr
8 cup nước
1-1/3 cup đường
1/2 tsp muối
3 Mcanh càfe hoà tan
1/3 cup sữa đặc
1 lon nước dừa - 400ml
1/2 tsp tinh dầu lá dứa
2 đĩa sâu lớn (9.5 in )
* Cho 1 gói rau câu 25gr vào 8 cup nước và ngâm 1 giờ.
* Phần cafe: trộn chung cafe, sữa đặc, cho nước sôi vào cho đủ 1-1/2 cup khuấy đều.
* Nấu rau câu lửa lớn và khuấy đều, khoàng 10 phút rau câu bắt đầu sôi thì cho đường và muối vào khuấy đều và nấu cho sôi lại. Hạ lửa nhỏ xuống và nhớ vớt bọt, nấu tiếp thêm 5 phút.
* Đổ nước rau câu nóng vào phần cafe sữa cho đủ 4 cup.
* Sau đó cho 1 lon nước cốt dừa vào phần rau câu còn lại nấu lửa trung bình khi thấy rau câu bắt đầu sôi thì vặn lửa thật nhỏ xuống.
* Đổ 1-1/2 cup rau câu nước dừa vào mỗi đĩa cho mỗi lớp ( tổng cộng là 3 cup)
* Kế tiếp đổ lớp cafe mỗi đĩa 2 cup.
* Phần rau câu còn lại khoảng 4 cup thì cho nước lá dứa vào và đổ lớp cuối.
* Cho Rau câu vào tủ lạnh, sau 5-6 giờ thì có thể dùng.
* Mỗi lớp rau câu cần 18-19 phút cho đặc lại. Nhớ khi đổ lớp thứ 2 và thứ 3 thì phải đổ từ từ và đổ từ ngoài vào đừng đổ ngay giửa rau câu sẽ bị bể không đẹp.
******************************
Adapted from Click here for YouTube video tutorial---Bấm vào đây xem video.
The Beth Kitchen http://www.thebethkitchen.com/