How to make the best Char-Siu/ Chinese BBQ Pork/Thịt Xá Xíu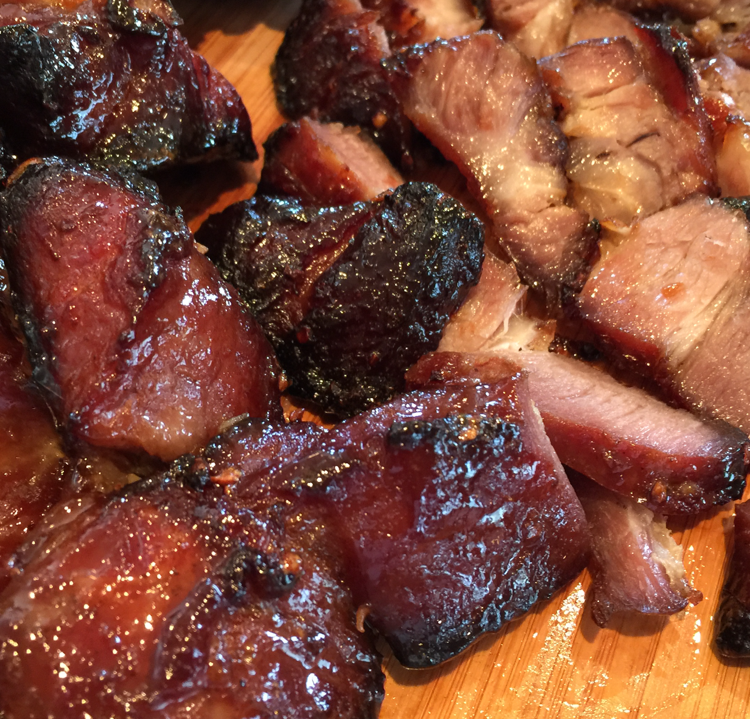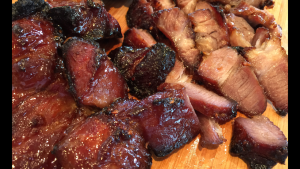 How to make the best Char-Siu/ Chinese BBQ Pork/Thịt Xá Xíu
2016-03-13 16:08:17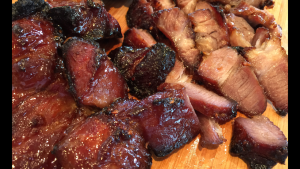 This is an Easy, Simple recipe to make a perfect Char-Siu. The meat is cooked perfectly and it's tasted amazing. It's delicious to serve with steamed sticky rice, add to your fried rice or topping for noodle soup.
Ingredients
* Ingredients are written in English and Vietnamese.
* Nguyên liệu được viết bằng Tiếng Anh và Tiếng Việt.
Ingredient for 5 - 6 serving
2 lbs pork butts contain some fat
3 cloves garlic - minced
4 Tbsp brown sugar
1 tsp kosher salt
1 tsp five spice powder
1 cube fermented tofu
1 tsp fermented tofu sauce
1 Tbsp Chinese cooking wine ( Shao Hsing cooking wine )
2 Tbsp Hoisin sauce
3 Tbsp soy sauce
**
Honey Glaze
2 Tbsp honey
1 tsp white vinegar
1 tsp sesame oil
* FOR step by step YouTube Video tutorial, CLICK the Link at the bottom of the page.
* Please follow my step by step process.
* Allow the meat to marinate in the refrigerator for 24-36 hours ( 36 hours will be best )
* On the day of roasting, allow the meat to return to room temperature for 30 min before roasting.
* Placed the meat on a rack over a baking pan lined with parchment.
* Roast the meat at 400°F preheated oven and position the rack at the second lowest shelf, roast for 30 mins.
* After 30 mins flip the meat and roast for 30 mins more.
* Then brush the top with honey glaze and adjust the oven temperature to Broil, Broil it for 4-5 mins then flipped the meat to the other side, brush with honey glaze and broil this side for 4-5 mins.
* Watch the meat closely to prevent the meat from getting burnt.
* Let the meat cooled for few mins before cutting and serving.
* Enjoy your delicious Char-Siu!!!
********************************************
Nguyên liệu cho 5 - 6 người dùng
*
2 lbs thịt nặc dăm hơi có mỡ
4 Tbsp đường vàng
3 tép tỏi băm nhuyễn
1 tsp muối
1 tsp bột ngũ vị hương
1 cục chao đỏ
1 tsp nước chao
1 Tbsp rượu nấu ăn ( Shao Hsing cooking wine )
2 Tbsp tương đen ( Hoisin sauce )
3 Tbsp nước tương
**
Sauce mật ong
2 Tbsp mật ong
1 tsp giấm trắng
1 tsp dầu mè
* Xin các bạn theo dõi cách làm cho kỹ và nhớ khi thịt đã ướp thì phải cho ngay vào tủ lạnh. Ướp thịt 24 - 36 tiếng ( mình ướp 36 tiếng thịt ra rất là ngon ).
* Cho thịt trở lại nhiệt độ phòng 30 phút trước khi nướng.
* Làm lò nóng trước 400°F Đặt vỉ ở tầng thấp số 2. Nướng thịt 30 phút sau đó trở thịt và nướng thịt thêm 30 phút.
* Sau đó thoa nước mật ong lên mặt thịt, tăng nhiệt độ lò lên Broil (nướng lửa trên) và nướng thịt có thể từ 4' - 5'. Sau đó trở thịt và thoa mật ong lên, nướng thêm 4-5'.
* Nhớ cho thịt nguội vài phút trước khi cắt.
* Món này dùng với xôi... thì tuyệt vời!
* Chúc các bạn ăn ngon miệng!
Adapted from Click here for YouTube video tutorial---Bấm vào đây xem video
The Beth Kitchen http://www.thebethkitchen.com/