How To Make Perfect Roast Duck – Vịt Quay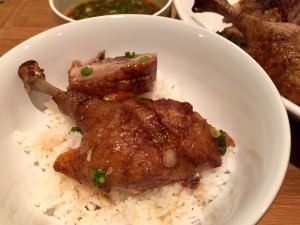 How To Make Perfect Roast Duck - Vịt Quay
2016-02-26 18:40:52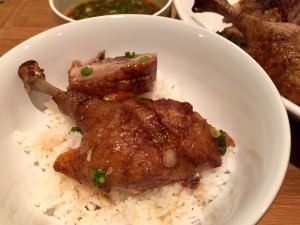 This is a simple way to make a perfect Roast Duck. The meat is cooked perfectly with a great flavors of Five spice powder. It tastes delicious with steamed rice, some pickled vegetables and a yummy dipping sauce.
Ingredients
* Ingredients are written in English & Vietnamese.
* Nguyên liệu được viết bằng Tiếng Anh & Tiếng Việt.
Ingredient for 4 - 5 serving
*
5.4 lbs duck - neck and giblet removed
2 inch ginger
1 Tbsp kosher salt
1 Tbsp cooking wine
**
5 - 6 litter of boiling water
***
2 Tbsp sugar
2 tsp Kosher salt
2 tsp Five spice powder
1 tsp black pepper
1 tsp garlic powder
1 tsp onion powder
****
1 tsp kosher salt
1 tsp paprika or dark soy sauce
2 tsp white vinegar
*****
Dipping sauce
Duck juice + 1 Tbsp sugar + 2 Tbsp soy sauce + 2 tsp lime juice + thinly sliced hot chili + 1 stalk scallion thinly sliced.
* FOR step by step YouTube Video tutorial, CLICK the Link at the bottom of the page.
* Please follow my step by step process.
* Allow the duck to marinate overnight in the refrigerator ( back side up then half way rotate breast side up ).
* On the day of roasting, allow the duck to return to room temperature for 40 min before roasting.
* Placed the duck on a rack over a roasting pan filled with 4 cups of water. This method keeps the duck moist and catches all the fat from the duck and prevents your oven from smoking.
* Roast duck at 475°F preheated oven and position the rack at the second lower shelf. Roast breast side down for 40 mins.
* Flip the duck breast side up and adjust the oven temperature to 375°F. Roast duck for 40 mins.
* After 40 mins adjust the oven temperature to Broil for 8-12 mins or until the duck is at a nice golden brown color. You can get the duck's skin more crispy by let it Broil for few more mins, just lightly cover some dark spot of the skin with foil.
* Watch the duck closely to prevent the skin from getting burnt.
* Must let the duck rest for 30 mins before cutting and serving.
* Enjoy your delicious Roast Duck!!!
********************************************
Nguyên liệu cho 4 - 5 người dùng
*
1 con vịt 5.4 lbs - lấy cổ và đồ lòng để riêng.
1 củ gừng khoảng 2 inch
1 Tbsp muối
1 Tbsp rượu nấu ăn
**
5 - 6 lít nước nấu sôi
***
2 Tbsp đường
2 tsp muối
2 tsp bột Ngũ vị hương
1 tsp tiêu
1 tsp bột hành
1 tsp bột tỏi
***
1 tsp muối
1 tsp bột ớt màu hay có thể dùng hắc xì dầu
2 tsp giấm trắng
****
Nước chấm
Nước vịt + 1 Tbsp đường + 2 Tbsp nước tương + 2 tsp nước chanh + ớt cắt mỏng + 1 tép hành lá cắt mỏng.
* Xin các bạn theo dõi cách làm cho kỹ và nhớ khi vịt đã ướp thì phải cho ngay vào tủ lạnh. Ướp vịt qua đêm.
* Cho vịt trở lại nhiệt độ phòng 40 phút trước khi nướng.
* Làm lò nóng trước 475°F nướng vịt 40 phút sau đó trở vịt và giảm nhiệt độ lò xuống 375°F và nướng vịt 40 phút.
* Sau đó tăng nhiệt độ lò lên Broil (nướng lửa trên) và nướng đến khi vịt vàng có thể từ 8' - 12'.
* Nếu muốn da giòn hơn thì nướng vịt thêm vài phút, dùng giấy bạc (foil) che sơ chổ da nào hơi bị cháy.
* Nhớ cho vịt nguội 30 phút trước khi cắt vịt.
* Món này dùng với cơm, dưa chua và nước chấm thì rất ngon!
Chúc các bạn có một bửa ăn ngon miệng!
Adapted from Click here for YouTube Video Tutorial---Bấm vào đây xem video
The Beth Kitchen http://www.thebethkitchen.com/