How to make EASY and Crispy Roasted Pork Belly – Thit Heo Quay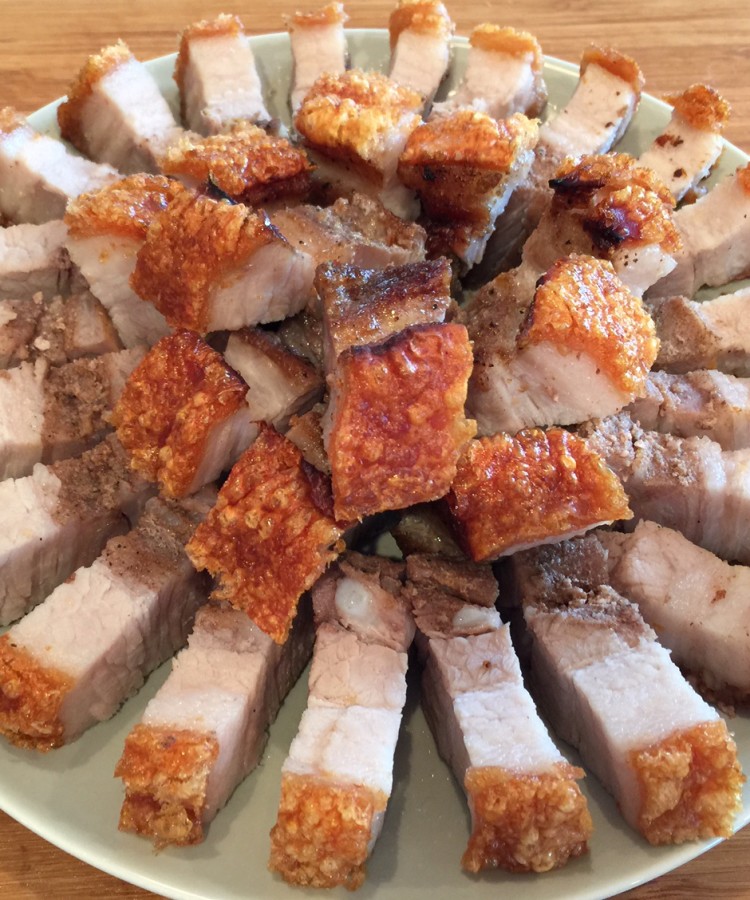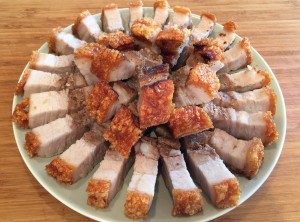 How to make EASY and Crispy Roasted Pork Belly - Thit Heo Quay
2016-02-17 08:05:58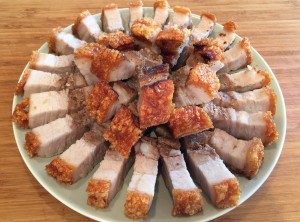 Easiest way to make Vietnamese Crispy Roast Pork Belly. Give it a try you will love it.
Ingredients
* Ingredients are written in both English & Vietnamese.
* Nguyên liệu được viết bằng Tiếng Anh & Tiếng Việt.
Ingredients to serve 5-6 people
Marinate the meat
2 lbs pork belly
1 Tbsp cooking wine (Mai Que Lo or Mei Kwei Lu Chew)
2-1/2 tsp sugar
1 to 1-1/2 tsp kosher salt
1/2 tsp black pepper
1 tsp garlic powder
1 tsp onion powder
1-1/2 tsp 5 spice powder
** For the skin
1 tsp white vinegar
3/4 to 1 tsp coarse kosher salt
* FOR step by step YouTube Video tutorial, CLICK the Link at the bottom of the page.
* Wipe the skin dried before applying vinegar.
* Let the pork marinate overnight/24 hours in the refrigerator with the skin side up (Do not cover the skin. The skin need to be DRIED for it to be crispy.)
* Allow the meat to return to room temperature 30 mins before cooking.
* Preheat oven to 400°F
* Position the oven rack at the second self from the bottom.
* Adjust the cooking time (longer or shorter) depending on the size of the meat.
* Cooking time is slightly different, depending on the temperature of your oven. You may need to cook your meat a couple minute longer or shorter. After that adjust the oven to "Broil" keep the baking pan at the same rack. Broil the meat until the skin are crispy and golden all around, then remove the meat. Enjoy!!!
********************************************
Nguyên liệu cho 5-6 người dùng
* Ướp thịt
2 pound thịt ba chỉ
1 Mcanh rượu Mai Quế Lộ
2-1/2 mcafe đường
1 hay 1-1/2 mcafe muối
1/2 mcafe tiêu
1 mcafe bột tỏi
1 mcafe bột hành
1-1/2 mcafe bột ngũ vị hương
** Phần da
1 mcafe giấm trắng
3/4 hay 1 mcafe muối
Lưu ý
* Dùng khăn giấy lau cho da thật khô xong rồi thoa giấm và rắc muối lên.
* Ướp thịt qua đêm trong tủ lạnh, không được đậy để cho da được khô. Da càng khô thì khi nướng da càng giòn.
* Lấy thịt trong tủ lạnh ra, để ra ngoài 30 phút trước thi nướng để cho thịt bớt lạnh.
* Phải làm nóng lò 400°F trước. Để vỉ nướng ở vị trí thấp số 2 thì thịt không bị cháy.
* Tùy thịt lớn hay nhỏ, dày hay mõng, Bạn phải tăng hay giảm thời gian nướng để cho thịt được chính ngon.
* Tùy nhiệt độ của mỗi lò khác nhau, bạn có thể nướng thịt lâu hơn hay là nhanh hơn thời gian của mình.
* Sau khi nướng thịt được 50' thì chỉnh nhiệt độ lò lên "Broil" vẩn giữ vỉ nướng ở vị trí củ. nướng đến khi da giòn phồng đều lên thì lấy thịt ra.
Adapted from Click here for YouTube video tutorial---Bấm vào đây xem video.
The Beth Kitchen http://www.thebethkitchen.com/