Hoành Thánh Tôm Chiên – Crispy Fried Shrimp Wonton with Sweet and Sour Dipping Sauce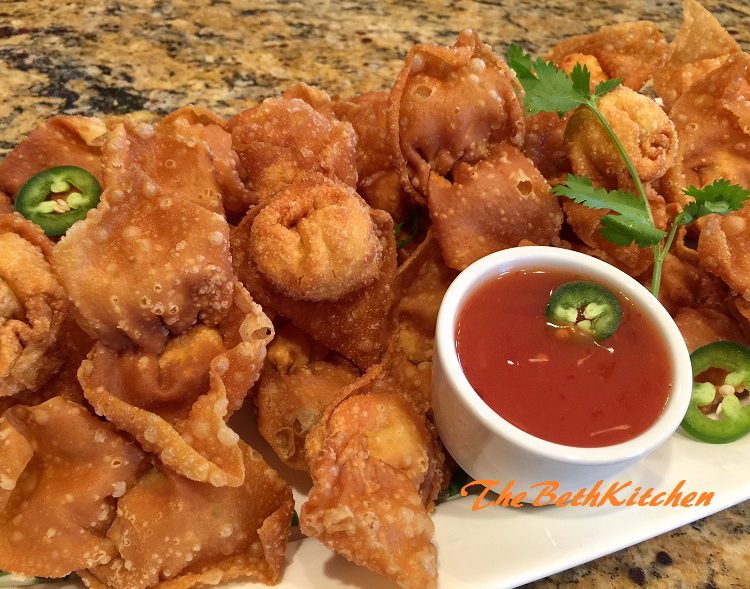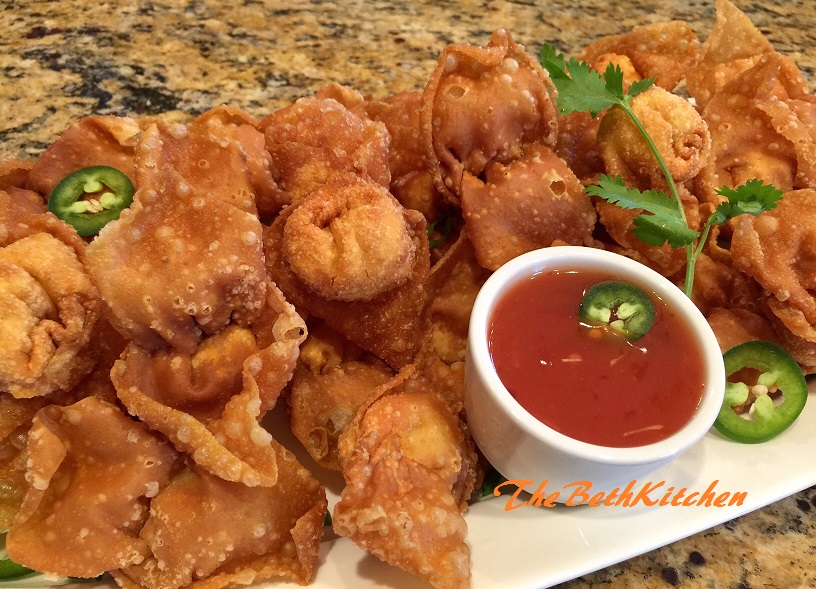 Hoành Thánh Tôm Chiên - Crispy Fried Shrimp Wonton with Sweet and Sour Dipping Sauce
2016-12-19 19:07:53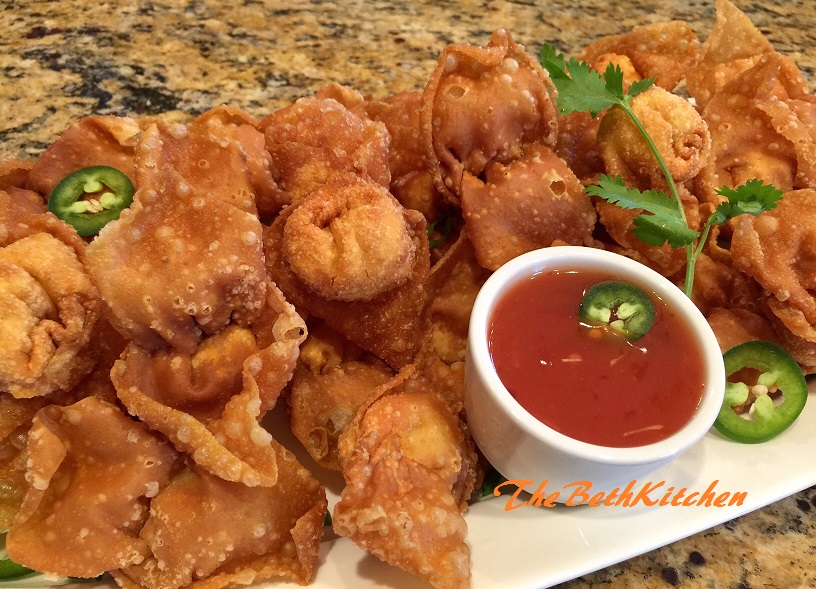 Hoành Thánh Tôm Chiên - Tương Chua Ngọt aka Crispy Fried Shrimp Wonton with Sweet and Sour Dipping sauce. It's a crispy and delicious appetizer, perfect for any gathering.
Ingredients
Ingredients are written in English and Vietnamese.
Nguyên liệu và số lượng được viết bằng Tiếng Anh và Tiếng Việt.
Ingredient for 72 wontons
For filling
4 oz ground pork
16 oz = 26 shrimp peeled, devein
1 clove garlic
3 stalks, white part of scalions
2 tsp soy sauce
1 Tbsp sugar
3/4 tsp kosher salt
1/2 tsp pepper
2 tsp corn starch
1 eggs yolk
1 1/2 tsp sesame oil
1 eggs white + 1 Tbsp water
2 packages of wonton wrappers 14 oz each.
Veg oil for deep fry
For Sauce
1/3 cup sugar
1 1/4 tsp kosher salt
1 1/2 Tbsp corn starch
1 1/4 cup water
1/4 cup white vinegar
1/3 cup ketchup
1 Tbsp of chili sauce, or more if you like your sauce more spicy.
1 clove of garlic cut into thinly strips.
* Please follow my step by step process.
* Allow the filling to marinate in the refrigerator for 30-60 mins.
* Deep fried the wontons at 365-370°F for the first time for 1 min. Then reheat the oil back to 365-370°F fry second time for about 3 mins. Watch the wontons closely to prevent it from getting burnt.
* The wontons can be store in the refrigerator after first fried for 1-2 days. Then deep fry for second time at 365-370°F until they are golden and crispy.
* Enjoy, Have fun cooking!
********************************************
Nguyên liệu cho 72 cái hoành thánh
* Nhân
4 oz = 115gr thịt heo xay
1 pound tôm = 480gr khoảng 26 con lớn, lột vỏ và bóc chỉ.
1 tép tỏi băm nhuyễn
3 cọng hành lá phần trắng
2 tsp nước tương
1 Tbsp đường
3/4 tsp muối
2 tsp bột bắp
1/2 tsp tiêu
1 1/2 tsp dầu mè
1 lòng đỏ trứng
1 lòng trắng trứng + 1 Tbsp nước
2 gói vỏ bánh hoành thánh 398gr mỗi gói
Dầu ăn để chiên
Nước chấm
1/3 cup = 88gr đường
1 1/4 tsp muối
1 1/2 Tbsp = 14gr bột bắp
1 1/4 cup = 295ml nước
1/4 cup = 60ml giấm
1/3 cup = 75ml ketchup
1 Tbsp tương ớt bằm, nếu thích ăn cay hơn thì cho thêm.
1 tép tỏi thái sợi nhuyễn
* Các bạn theo dõi cách làm cho kỹ và nhớ ướp nhân trong tủ lạnh từ 30-60'
* Làm dầu nóng trước 365-370°F chiên chả giò lần đầu 1phút.
* Sau đó làm dầu nóng lại 365-370°F chiên lần 2 thêm 3 phút.
* Hoành thánh ăn nóng với tương chua ngọt thì ngon tuyệt vời! Các bạn chiên cho kỹ thì hoành thánh sau 5-6 giờ nó vẫn giòn.
* Có thể chiên hoành thánh lần đầu rồi để bảo quản trong tủ lạnh vài ngày sau đó chiên lần 2 trước khi ăn.
Chúc các bạn ăn ngon miệng!
Adapted from Click here for YouTube video tutorial---Bấm vào đây để xem cách làm.
The Beth Kitchen http://www.thebethkitchen.com/