EASY Oven Baked Sweet and Spicy Chicken Wings (Canh ga nuong mat ong)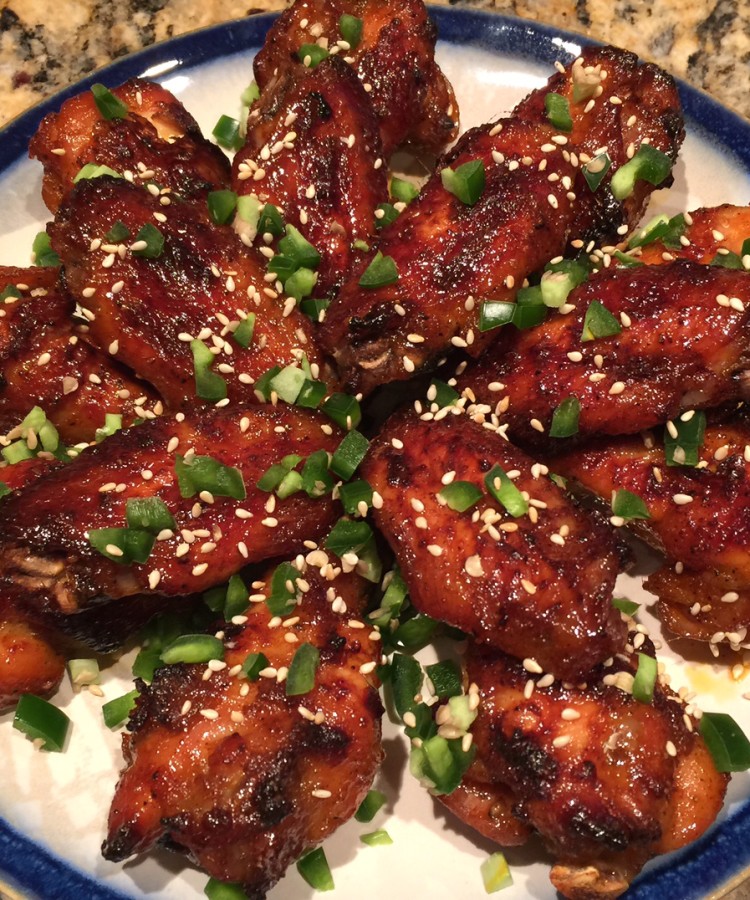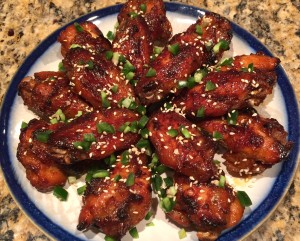 EASY Oven Baked Sweet and Spicy Chicken Wings (Canh ga nuong mat ong)
2016-02-17 07:49:31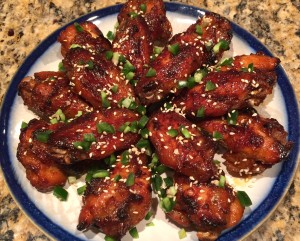 Baked Sweet and Spicy Chicken Wings is a great appetizer for any of your game day party. It is very easy to make and is much healthier than the deep fried version. Give it a try you will love it.
Ingredients
* Ingredients are written in both English & Vietnamese.
* Nguyên liệu được viết bằng Tiếng Anh & Tiếng Việt.
Ingredients: 17 wings
2 lbs chicken wings washed and patted dry
2 tsp kosher salt
1 Tbsp sugar
1/2 tsp black pepper
1-1/2 tsp garlic powder
2 Tbsp Sriracha Hot Chili sauce (add more or less to fit your taste bud)
1 chopped jalapeno pepper
1 tsp toasted sesame seeds (optional for garnish)
* Honey Glaze
1/4 cup honey
2 tsp soy sauce
1 tsp white vinegar
1/2 tsp paprika
* FOR step by step YouTube Video tutorial, CLICK the Link at the bottom of the page.
Allow chicken wings return to room temperature 30 mins before baking. Preheat the oven to 450°F, Position your oven rack at the second bottom shelf. First bake chicken for 25 mins then applying the glaze sauce to both side of the wings. Return the wings to the oven and bake them for 10 mins. After that 10 mins applying with glaze sauce again and bake again for 5 more mins. Serve hot!!!
*****************************************************
Nguyên liệu cho 17 cánh gà
2 pound cánh gà
1-1/2 hay 2 mcafe muối
1 Mcanh đường
1/2 mcafe tiêu
1-1/2 mcafe bột tỏi
1 trái ớt cắt hột lựu
1 mcafe mè rang
* Nước sauce mật ong
1/4 cup mật ong
2 mcafe nước tương
1 mcafe giấm
1/2 mcafe ớt bột
Lưu ý
Trước khi nướng 30 phút lấy cánh gà từ tủ lạnh ra cho đở lạnh. Đặt vỉ nướng ở vị trí thấp số 2 thì cánh gà không bị cháy. Làm lò nóng 450°F. Nướng cánh gà được 25 phút thì phết sauce lên cả 2 mặt, và nướng tiếp thêm 10 phút. Sau đó phết sauce lên lần 2 và nướng thêm 5 phút.
Adapted from Click here for YouTube video tutorial---Bấm vào đây xem video.
The Beth Kitchen http://www.thebethkitchen.com/