Chocolate Buns – Bánh Mì Sôcôla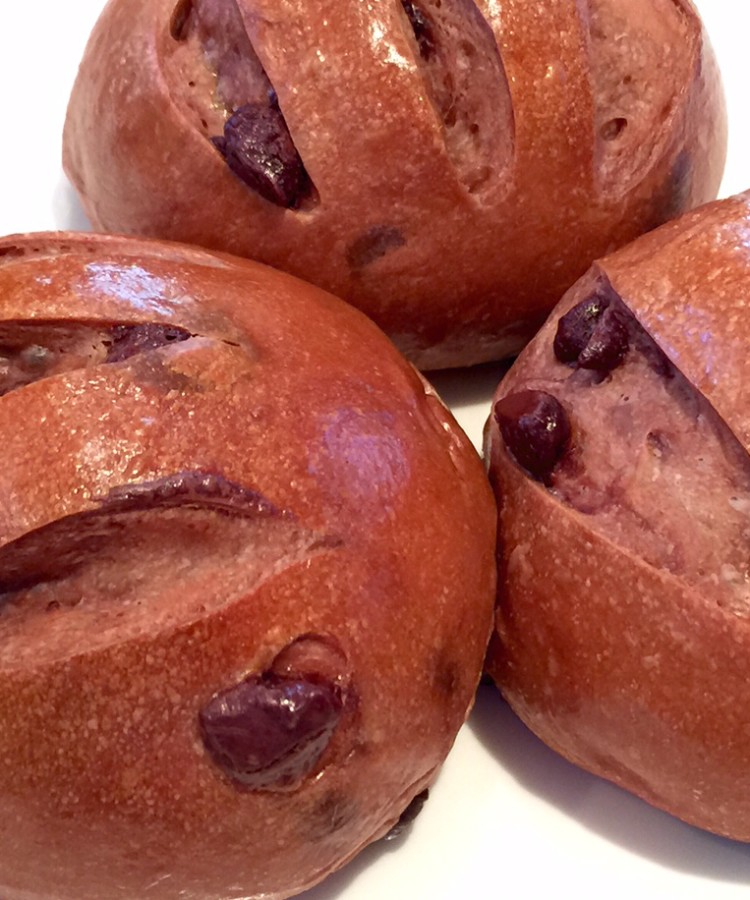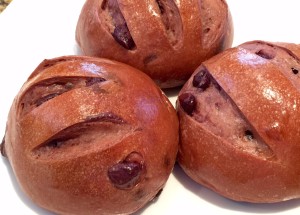 Chocolate Buns - Bánh Mì Sôcôla
2016-02-19 14:57:55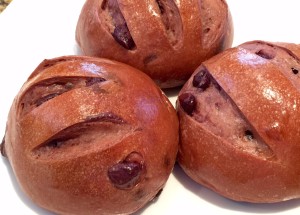 Chocolate Buns is a sweet, soft chocolate bread. It's delicious and easy to make . Kids love them, it's good for snack or breakfast.
Ingredients
* Ingredients are written in English & Vietnamese.
* Nguyên liệu được viết bằng Tiếng Anh & Tiếng Việt.
Ingredients: making 15 -16 buns
3-2/3 cup or 550 grams of King Arthur unbleached All- purpose flour.
1 tsp of kosher salt
1/3 cup of granulated sugar
3 Tbsp of Natural Unsweetened cocoa powder
1/4 cup of melted unsalted butter
1/3 cup of milk
1 cup of semi-sweet chocolate chip
2-1/2 tsp of active dry yeast
1 tsp sugar
1 cup of lukewarm water
* FOR step by step YouTube Video tutorial, CLICK the Link at the bottom of the page.
* 1 egg yolk plus 1 Tbsp of water for egg wash
* Preheated oven to 350°F, position the rack on the 3rd lower shelf. Bake the buns for 22-24 mins.
* Baking time is slightly different, depending on the temperature of your oven. You may need to bake your buns a couple minute longer or shorter. Risen time is vary, cold weather will take longer time to rise. Judge the dough by how much it's risen not how long it take to rise.
*********************************
Nguyên liệu cho 15-16 bánh
3-2/3 cup hay là 550 grams Bột mì (King Arthur unbleached All- purpose flour)
1/3 cup đường cát
1 tsp muối
3 Mcanh bột cacao không đường (Hershey's Natural Unsweetened)
1/3 cup sửa tươi
1/4 cup bơ lạt làm tan
1 cup Sôcôla ( semi-sweet chocolate chip )
1 lòng đỏ trứng + 1 Mcanh nước
2-1/2 tsp men nở (11 gr) - Active dry yeast
1 tsp đường cát
1 cup nước ấm
Lưu ý
* Làm nóng lò trước 350 °F, đặt vỉ nướng ở tần thấp số 3. Nướng bánh khoảng từ 22-24 phút. Tùy nhiệt độ của mỗi lò khác nhau, bạn có thể nướng bánh lâu hơn hay là nhanh hơn thời gian của mình.
* Nên ủ bánh nơi kín gió thì bánh không bị khô .*** Mùa hè ủ bột thì nhanh hơn là mùa đông.
Adapted from Click here for YouTube video tutorial---Bấm vào đây xem video.
The Beth Kitchen http://www.thebethkitchen.com/