Cách Gói Bánh Tét Truyền Thống – Vietnamese Savory Sticky Rice Cake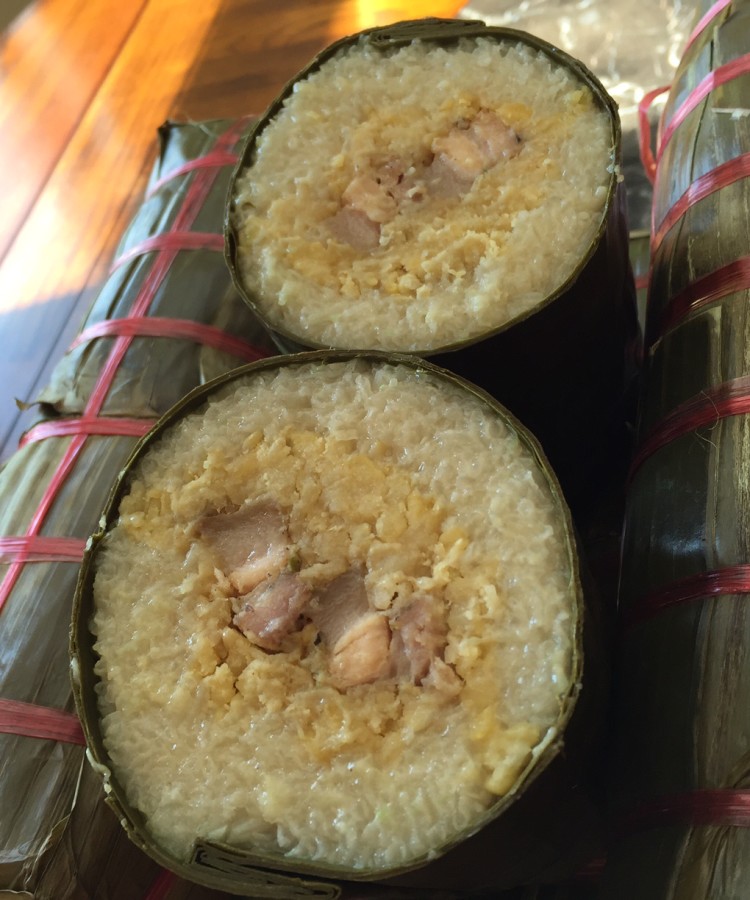 Cách Gói Bánh Tét Truyền Thống - Vietnamese Savory Sticky Rice Cake
2016-02-19 20:16:51
Banh Tet - Traditional Vietnamese New Year cake.
Ingredients
* Ingredients are written in English & Vietnamese.
* Nguyên liệu được viết bằng Tiếng Anh & Tiếng Việt.
Ingredients to make 6 large cake about 3 lbs each
2 bags 14 OZ each Mung beans -- season cooked mung bean w/3 tsp of sea salt.
3 packages frozen banana leaves = 3 lbs
3 lbs pork belly
4-5 Medium size shallots
10 stalks of scallion white part only
2-1/2 Tbsp sugar
2-1/2 tsp pepper
3 tsp sea salt
5 lbs sweet rice -- season soaked sweet rice w/1 Tbsp sea salt
6 - 13 feet plastic twines
3 - 20 " plastic or cotton twines
* FOR step by step YouTube Video tutorial, CLICK the Link at the bottom of the page.
Instructions
* Please follow my step by step and do not make any changes.
* FIRST STEP, prepare these the night before
- Washed , drained mung bean 4-5 times -- soak for 8 hours.
- Soaked banana leaves 1 hour in hot water -- washed, drained, wiped dry. Divided leaves to potions.
- Cut pork belly to strips -- marinated keep in the refrigerator for 7-8 hours.
- Measure, cut out 3 x 20 inch long, and 6 x 13 feet long plastic twines ( if your plastic twine are to wide you could slit them in half )
** STEP TWO, early morning the next day
- Washed sweet rice 4-5 times -- soaked rice in cold water for 3 hours. Rinsed and drained the rice into the colander ( make sure to shake off all the excess water ) season the rice with salt.
- One hour before you planed to wrap your cake, rinsed soaked mung bean into the colander then steam it over boiling water for 30 mins. Season cooked bean with salt and lets it cooled down for 30 mins.
** STEP THREE: wrapping time -- this is my favorite step 🙂
** STEP FOUR, cooking
- Place all of the scraps, left over banana leaves into the bottom of the deep pot. Arrange your cakes straight ( the cakes will cook evenly this way)
- Fill the pot with plenty of hot boiling water, place a small rack and something heavy to help keep these cake down.
- Cook on high for 40-50 mins by that time your water is really boiling ( you will hear the boiling sound very loudly ) then turn the heat down to medium. Cook the cake for 4 hours then you will need to flip the cake, BY take out all of the cakes and put them back with the other end facing down. Add more boiling water to cover the cakes.
- After the cakes been cooked for 8 hours, turn the heat off and leave them in there for 1 hour --- removed the cakes to cold water and let them cool off for 15 mins -- drained, dried the cakes.
- The next day when the cake are completely dried -- wrap them tightly in a plastic wrap, store them in cool, dry place.
*** This is a time consuming project but if you are following my step by step like what I have recommended then you will success.
- All the Ingredients need to prep clean and refrigerated as recommended, then your cakes will be very happy and lasted longer then expected.
- Enjoy your delicious cakes.
******************************************
Nguyên liệu cho 6 bánh tét lớn khoảng 1.5 kg
2 gói đậu xanh mỗi gói 14 OZ -- đậu chín trộn vào 3 tsp muối biển
3 gói lá chuối đông lạnh = 3 lbs
3 lbs thịt ba rọi
4-5 củ hành tím
10 cọng hành lá phần trắng
2-1/2 Tbsp đường
2-1/2 tsp tiêu
3 tsp muối biển
5 lbs nếp hạt dài --- Trộn vào nếp đã ngâm, xả, thật ráo 1 Tbsp muối biển
6 sợi dây dài 13 feet
3 sợi dây dài 20 inch
* Xin theo dõi cách làm cho kỹ và đừng thay đổi các nguyên liệu nhé.
* Bước 1: Chuẩn bị các thứ này một đêm trước.
- Vo đậu 4-5 lần --- xả sạch và ngâm 8 tiếng.
- Ngâm lá 1 tiếng trong nước nóng -- rửa sạch, để ráo, lau khô -- chia lá. Đo và cắt dây ( nếu dây có bản khá lớn thì bạn có thể xé làm hai )
- Cắt thịt, ướp thịt cho vào tủ lạnh 7-8 tiếng.
** Bước 2: Sáng hôm sau,
- Vo nếp 4-5 lần cho sạch -- ngâm nếp trong nước lạnh 3 tiếng.
Sau đó xả , để thật ráo -- trôn muối vào.
- 1 giờ trước khi gói bánh thì bạn xả sạch đậu, ráo và hấp đậu 30 phút ( hấp lúc nước sôi ). Trộn muối vào và để 30 phút cho nguội.
*** Bước 3: Gói bánh 🙂
**** Bước bốn: Luộc bánh
- Cho tất cả các lá vụn, dư vào đáy nồi ( sử dụng nồi càng sâu càng tốt nhe ) đặt bánh đứng vào đổ nước sôi cho nhiều ngập bánh ( ĐỔ NƯỚC NHIỀU THÌ KHÔNG CẦN PHẢI LO CHO THÊM NƯỚC ). Đặc vỉ nhỏ và vật nặng để đè bánh xuống.
- Luộc bánh lửa thật lớn khoảng 40-50 phút thì nước sẽ rất sôi, lúc này bạn nên vặn lửa nhỏ xuống medium. Luộc bánh được 4 tiếng thì trở bánh - bằng cách lấy hết bánh ra và quay đầu bánh, cho thêm nước sôi và luộc bánh thêm 4 tiếng.
- Luộc bánh được 8 tiếng thì tắt bếp và giử bánh trong nồi thêm 1 tiếng. Sau đó cho bánh vào nước lạnh và ngâm bánh 15 phút cho nguội -- vớt bánh và để cho bánh ráo.
- Ngày hôm sau khi bánh thật khô thì gói bánh lại với giấy kiếng để bánh nơi khô ráo không nóng ẩm thì bánh sẽ giữ được rất lâu.
** Làm bánh tét là cả một công trình nhưng nếu bạn làm theo cách hướng dẩn của mình thì bạn sẽ thành công. Khi chuẩn bị các nguyên liệu thì phải làm cho sạch sẽ và thịt phải bảo quản trong tủ lạnh thì bánh sẽ rất ngon giữ được lâu và xứng đáng công sức mình bỏ ra.
Chúc các bạn thành công!!!
Adapted from Click here for YouTube video tutorial---Bấm vào đây xem video.
The Beth Kitchen http://www.thebethkitchen.com/