Bánh Pateso – Pâté Chaud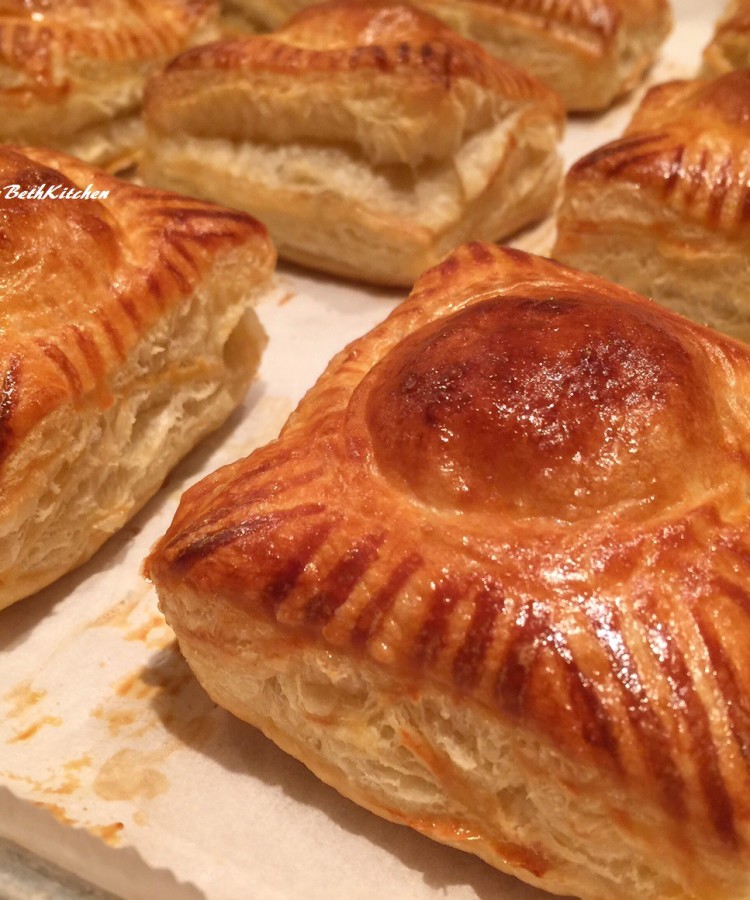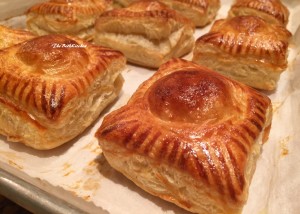 Bánh Pateso - Pâté Chaud
2016-02-19 15:39:45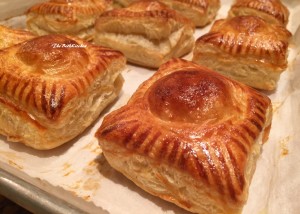 Bánh Pateso is a common snack that you can easily find at many bakery stores. It's delicious and very easy to make at home.
Ingredients
* Ingredients are written in English & Vietnamese.
* Nguyên liệu được viết bằng Tiếng Anh & Tiếng Việt.
Ingredients for 18 pâtéso
10 oz ground pork
4 oz chicken liver pate - Homemade or store bought - Look for my Chicken Liver Pate on my channel.
1/2 large sweet onion = 1 cup - chopped
1 slice white bread
1 Tbsp of sugar
3/4 tsp to 1 tsp kosher salt
1/2 tsp black pepper
2 eggs
1 Tbsp water to add to the egg yolk
2 boxes of Puff pastry Ready to bake sheets 17.3 OZ
* FOR step by step YouTube Video tutorial, CLICK the Link at the bottom of the page.
* Keep puff pastry in the freezer until it's ready to use. It may take 35-40 mins to thaw. If thawed pastry become warm/or soft after thawing, Promptly place in freezer for 5 mins then use as recipe directed.
* Bake your Pâtés Chaud for 21-22 mins or until it's golden brown, keep your eyes on it.
******************************************
Nguyên liệu cho 18 bánh
10 oz thịt heo xay = 290 gr
4 oz pâte gan = 110 gr
1/2 củ hành ngọt lớn = 1 cup bằm nhỏ
1 miếng bánh mì
1 Tbsp đường
3/4 tsp - 1 tsp muối
1/2 tsp tiêu
2 cái trứng
1 Mcanh nước để cho vào lòng đỏ trứng gà
2 hộp bánh Puff pastry mỗi hộp 17.3 OZ
Lưu ý
* Vỏ bánh nên để trong tủ đá đến khi dùng thì lấy ra trước 35-40' cho tan đá. Nếu vỏ bánh để lâu bị mềm thì cho trở lại tủ đá 5' và tiếp tục làm theo cách chỉ dẩn.
* Làm lò nóng 425°F, đặt vỉ ở tầng thấp #3. Nướng bánh từ 21-22' có thể lâu hơn đến khi bánh vàng đều.
NHỚ COI CHỪNG ĐỪNG ĐỂ BÁNH CHÁY!
Adapted from Click here for YouTube video tutorial---Bấm vào đây xem video.
The Beth Kitchen http://www.thebethkitchen.com/