Bánh Chuối Nướng – Baked Banana Cake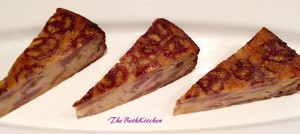 Bánh Chuối Nướng - Baked Banana Cake
2016-02-19 13:04:04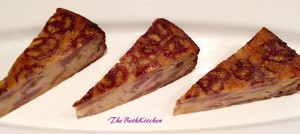 Baked Banana Cake also known as Bánh Chuối Nướng in Việt Nam. The cake is make with a combination of banana, bread, coconut milk, condense milk, butter, sugar and salt. It's very easy to make and it taste delicious with rich flavor of coconut and sweet smell of caramelized banana. Perfect desert for any gathering!
Ingredients
* Ingredients are written in English & Vietnamese.
* Nguyên liệu được viết bằng Tiếng Anh & Tiếng Việt.
Ingredients for 1 large cake serve 12
* 9 large Vietnamese banana _ 1.1 kg
3 Tbsp sugar
1/4 tsp kosher salt
* 6 slices of white bread
3 or 4 Tbsp sugar
3/4 cup rice flour
2 Tbsp tapioca flour
1/4 tsp kosher salt
1 can coconut milk (400 ml)
1 egg
1/3 cup condense milk
5 Tbsp unsalted melted butter
1 tsp vanilla extract
1 - 10" Springform pan greased with butter and lined with parchment paper.
* FOR step by step YouTube Video tutorial, CLICK the Link at the bottom of the page.
* Bake the cake at 375 °F preheated oven for 75-80 mins, position oven rack at the 3rd self from the bottom.
*******************************
Nguyên liệu để làm 1 bánh lớn -12 người dùng
* 9 trái chuối sứ lớn - 1.1 kg
3 Mcanh đường
1/4 mcafe muối
*6 lát bánh mì sandwich
3 - 4 Mcanh đường
1/4 mcafe muối
3/4 cup bột gạo
2 Mcanh bột năng
1 lon nước dừa - 400ml
1 cái trứng
1/3 cup sữa đặc
5 Mcanh bơ lạt làm tan
1 mcafe vanilla extract/vani-đường thơm
1 - 10" khuôn có thoa bơ và lót giấy chống dính.
* Lò nóng 375°F, nướng bánh từ 75-80 phút. Đặt vỉ nướng ở tầng số 3 đếm từ dưới lên.
Adapted from Click here for YouTube video tutorial---Bấm vào đây xem video.
The Beth Kitchen http://www.thebethkitchen.com/