BÁNH BAO – STEAMED PORK BUNS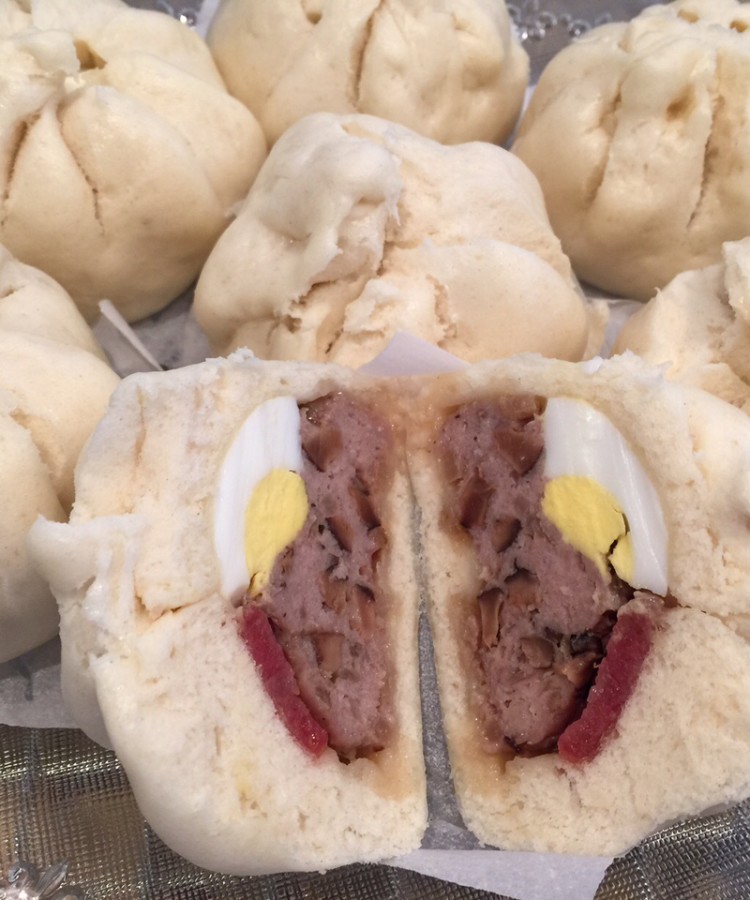 BÁNH BAO - STEAMED PORK BUNS
2016-02-17 09:10:02
Bánh Bao is a very popular food. It's hearty savory filling, combine with lightly sweet soft buns, makes it perfect for any meal to eat at anytime and anywhere. If you follow the exact recipe you will have the perfect soft fluffy and delicious Bánh bao.
Ingredients
* Ingredients are written in both English and Vietnamese.
* Nguyên liệu được viết bằng Tiếng Anh & Tiếng Việt.
Ingredients: Make 16 large buns
*Filling
1-1/3 lbs ground pork
2-3 Tbsp shallot minced
2 cloves garlic minced
1 cup chopped onion or 1 medium size onion
1/2 cup chopped Jicama
1 cup reconstitute Chinese mushroom cut to small
1 Tbsp corn starch
1/2 tsp kosher salt
2 tsp sugar
1/2 tsp black pepper
1 tsp sesame oil
1 Tbsp oyster sauce
1 Tbsp olive oil for cooking
* FOR step by step YouTube Video tutorial, CLICK the Link at the bottom of the page.
* 3 links Chinese sausage sliced to 48
* 4 hard boiled eggs cut each to 4
*Dough
4 cup self rising flour (King Arthur self rising flour)
2 tsp Double acting baking powder
1/2 cup milk
2/3 cup room temperature water
1/8 tsp kosher salt
1/2 cup sugar
1 Tbsp veg oil
Some extra flour for kneading. (USE AS LITTLE AS POSSIBLE)
16 square 4"x 4" pieces of parchment paper.
* Please follow my step by step and do not make any changes.
* Only rest the dough for 30 mins, Need to make the filling first.
* Fill the steam pot 1/2 full, make sure water is boiling. Lay a wet towel on the steam rack, then the buns and space the buns out. Cook the buns for 22 - 24 mins, at half way of cooking remember to shake off all the water that have collected on the lid. Enjoy your hot steam buns. To store left over: wrap each cooled buns with plastic wrap place them in the Ziploc bag and refrigerated or freezer. To reheat: wrap each bun with damn paper towel and microwave for 1 min then you will have one hot, yummy steamed bun again.
**********************************************************************
Nguyên liệu: 16 bánh bao lớn
1-1/3 bls thịt heo xay
2 củ hành tím băm nhỏ
2 tép tỏi băm nhỏ
1 chén nấm đông cô cắt nhỏ
1/2 củ sắn cắt nhỏ
1 củ hành tây băm nhỏ (gần 1 chén)
1 Mcanh dầu hào
1 mcafe dầu mè
1 Mcanh dầu ăn
2 mcafe đường
1/4 mcafe muối
1/2 mcafe tiêu
1 Mcanh bột bắp
* 3 cây lạp xưỡng cắt ra 48 miếng
* 4 cái trứng luộc cắt ra 16
* 16 tờ 4"x4" vuông giấy chống dính
* Bột
4 cup bột mì đã có trộn bột nổi (King Arthur self rising flour)
2 mcafe bột nổi ( Double acting baking powder )
1/2 cup sửa (không cần làm nóng)
2/3 cup nước (không cần làm nóng)
1/8 mcafe muối
1/2 cup đường trắng
1 Mcanh dầu ăn
1-2 Mcanh bột để làm bột áo (xài bột áo càng ít càng tốt)
Lưu ý
* Xin theo dõi cách làm cho kỹ và đừng thay đổi nguyên liệu.
* Chỉ cần để bột nghĩ 30 phút thôi, Chuẩn bị nhân trước.
* Dùng 1/2 nồi nước, nước phải thật sôi. Hấp bánh 11 phút xã hơi rồi hấp thêm 11 phút nữa.
* Khi bánh nguội, dùng giấy nylon bọc bánh lại cho kín cho vào Ziploc và để tủ lạnh hay tủ đá
( để dành ăn lâu hơn ). Khi muốn ăn bánh nóng chỉ cần gói bánh với khăn giấy hơi ướt và bỏ vào Microwave 1 phút thì bạn sẽ có một cái bánh bao nóng hổi ngon lành!
Adapted from Click here for YouTube video tutorial---Bấm vào đây xem video.
The Beth Kitchen http://www.thebethkitchen.com/